Parramatta Heritage Rides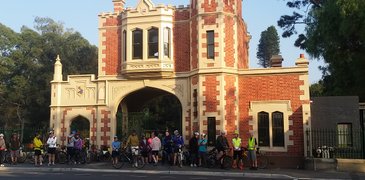 Parramatta has a unique collection of Boundary stones, installed in 1839 to define the policeman's beat.
Parramatta has many beautiful houses, from different periods, and an abundance of sandstone.
Sun 24 July, 2022 - VINTAGE
The best of Parramatta's heritage, including Australia's 3 oldest European buildings,it's oldest cemetery, and its unique Aboriginal history. And much more! Places limited - book now!
Riding over, under or through the more than 20 bridges between the head of the Parramatta River and Silverwater.
Parramatta's finest, including Elizabeth Farm, Female Factory Precinct, site of the Parramatta Native institution, Indigenous shared footpath, Old Government House, St Johns Cemetery, Female Orphan School and much more!
Parramatta Heritage Rides have been touring Parramatta's rich heritage since 2003. Founded by Paul Bowyer and Peter Gilbert, who wanted to showcase Parramatta's heritage to the world! Peter retired in 2019, and Anthony Parker joined as Tail Rider. Covid recently knocked us about, but we're back!
Parramatta has arguably the finest heritage collection in Australia, but it's it's not well known, and increasingly under threat, with recent losses of the Royal Oak Hotel and Willow Grove.
The rides pass many sites and buldings of our unique past, both Indigenous and European and Paul's commentary brings them to life.

The rides are free, but bookings are essential. A $15 deposit is required to reserve a place, but don't worry - we'll refund it as long as you attend or give at least 72 hours notice of cancellation.
You'll need your own bicycle in working order.
We are unable to offer bike hire.
Parramatta Heritage Rides operate in conjunction with Bike North.
Parramatta has 6 cemeteries, including the oldest surviving one, St Johns. Many famous figures are buried in their boundaries, which also reveal many aspects of Parramatta's history.